ABOUT US
FOREWORD
Lion Automotive – Is our innovative Branding for our range of remanufactured OE Hydraulic and Electric Power steering Products.
Since 1998 PSR Direct the parent company of Lion Automotive has been Manufacturing steering components. Initially for a small number of local distributors and local installers who enjoyed the local service and support that we had to offer. For 10 years our growth was steady and the market was growing around us and there was greater demand and opportunity for our business.
In 2011 the company employed our now owner of PSR Direct David Ward to manage the hydraulic manufacturing and sales side of the business. In 2014 David and Business partner Simon then bought out the previous directors in a bid to improve the companies position. The direction of the company took a new outlook on the industry and decided we wanted to be the best at what we do. With new investment and ideas the Company firmly positioned itself as a competitor in the market.
In 2016 We purchased a new purpose built facility for the additional manufacturing required to maintain and manage the new network of distributors that we had attracted. We also created a research and development department to help us with new product releases and to improve our current catalogue of products. This allowed us to look at the new technologies of modern power steering and we are now a leading source of new product releases in Europe.
We can now offer an expansive and innovative range of power steering products under our Brand of Lion Automotive and back it with the support and technical assistance our customers demand. The range of products is built to the highest production standards using knowledge gained from engineers with a wealth of experience in the automotive aftermarket industry. This coupled with a quality sales and technical teams means that you our customer receive the best product and service always.
2018 sees the launch of our online marketing and sales strategy. We believe we are building a site that will offer the support and products that a demanding market requires. Thank you for taking your time to learn about our company and if you have any questions or recommendations to improve our service we are always listening.
Services We Offer
We provide a comprehensive range of power steering products.
Our Range Includes:
Hydraulic Power Steering Racks & Pumps
Manual Steering Racks
Electric Power Steering (EPS) Racks & Columns
Electric Power Steering (EPS) Manual Racks (Used in conjunction with a EPS Column to provide assisted steering)
Electro-Hydraulic Power Steering Pumps
We aim to supply our full catalogue straight from stock. Where this is not possible we offer a Recondition and Return service where we collect your steering rack or pump via courier, receive the unit at our purpose-built facility and aim to have the unit recondition and returned to you within 24 hours of us receiving it.
We also offer product identification and technical support. Due to extensive research and development we are aware of countless variants of steering products available for any one vehicle application. Correctly identifying the exact steering rack or pump for your vehicle is integral to our remanufacturing process. In addition, our technical team can diagnose most problems over the phone, whether you need help identifying the correct part for your vehicle, or your steering system isn't working correctly we can help pinpoint the fault and offer a solution by supplying the part that is needed.
The Remanufacturing Process
When we receive old parts, we sort and identify them by part number. Damaged or incomplete parts are not used.
The old steering components are completely disassembled, cleaned and rebuilt achieving an as new condition. Perishable components such as seals, bearings, O-rings and PTFE rings are replaced with a OE standard or OE equivalent. These are sourced from a variety of reputable companies around Europe.
The remanufactured parts are assembled to an exacting standard. Checks are put into place to ensure our high standards are 100% met.
Every remanufactured product will endure a rigorous testing procedure prior to packaging and distribution. The testing process checks the performance levels exactly as they would be expected to perform on the vehicle. Fluid flow and BAR pressure ratings are monitored against OE levels of performance.
After the product has passed the testing stage, new gaiters are fitted and the rack is then coated in a black paint finish, labelled and packaged ready for distribution.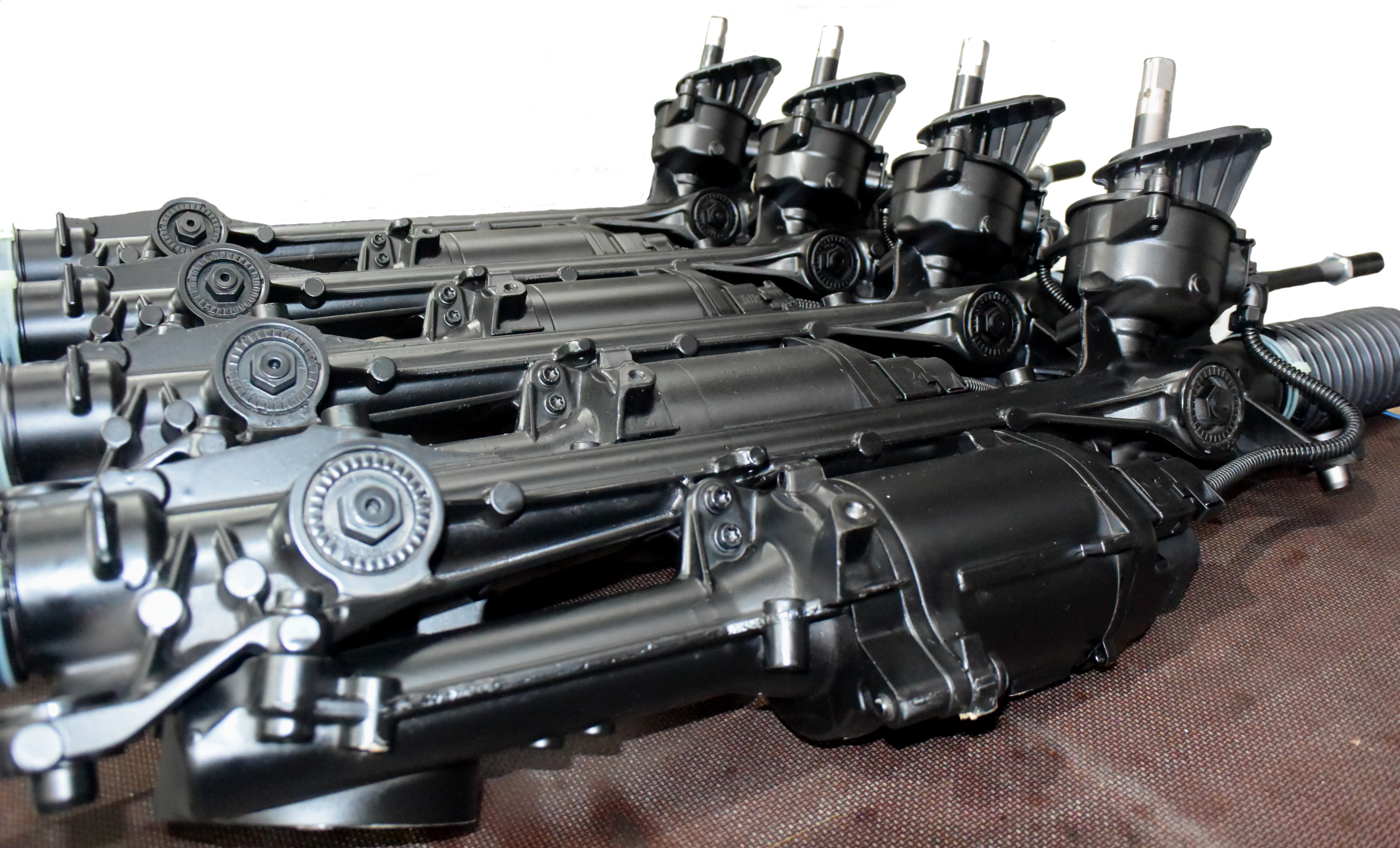 David Ward
Managing Director
VW TRANSPORTER T5 (MK5) 03 > 15 POWER STEERING RACK